Over the last 10 years Peruvian cuisine, has been recognized to be the one of best in the world. It's a perfect country for foodie tourism.
It started many many years ago with a cultural exchange between the Spanish, Africans, Chinese, Japanese, and Italians, just to name a few.
What's the history? Here's the nutshell version (please keep in mind, this is a history with strictly the gastronomical point of view in mind):
6000 B.C.E: around this time, the first inhabitants of Peru are believed to have come from Asia – they ate the animals, plants, and fruits that the land offered to survive.
5000 B.C.E – small communities were established, and there was steady agriculture of cotton, beans, squash, and choclo (a starchy, giant form of corn)
400 B.C.E. – papas (potatoes), were first grown in Peru! (sidenote: Europe now cultivates the largest number of potatoes, but Peru continues to produce the largest potato varieties and has been referred to as the "Potato Capital of the World.")

Influences of the Incan culture can still be seen in Peru to this day. 2015, Quechua woman in Cajamarca.

1400's – the Incas came to power! These indigenous people had a wonderful array of native foods from Peru's extremely biodiverse regions: the desert, the coast, the mountains, and the jungle.
1528 – Spanish conquistador Francisco Pizzaro "discovered" Peru and took over. Thanks to the Spanish however: chicken, pork, and lamb were introduced to the Incas. They also captured and indentured the Incas into slavery. They forced the Inca to grow European crops like wheat, barley, beans, and carrots, onions, garlic, cilantro, parsley, and several different fruit trees.
1529-1587 – European disease struck the Incas, and there was a shortage of workers. Slaves were brought from Africa to work on the plantations. This contributed to many techniques and ingredients, often caused by necessity, like using lesser appealing cuts of meat, leftovers see food #4 below! This however indoctrinated African methods, particularly frying foods in oil.
1800's – Chinese immigrants from the Guangdong province in China arrived to Peru. Peruvian chefs began to integrate Chinese ingredients like: ginger, soy sauce, and scallions into their meals to create a genre called: Chifa. See food #5 below!
1873 –  In this year, Peru established diplomatic relations with Japan. Since then, many emigrated from Japan to Peru. Currently, more than 1.5 million Japanese-Peruvians live in Peru. Notorious Former President Fujimori and his daughter presidential elect Keiko, are some sketchy, but famous Japanese-Peruvians). The Japanese influence has resulted in several fusion based dishes as a direct result of Japanese influence.

the grand entranceway to "Calle Capon", Peru's Chinatown in downtown Lima: Calle Capon Entrance

All of these cultures melding together have had a melting pot effect, a delicious one at that! The delicacies of the cultures of the Inca, Spanish, Africans, Europeans, Chinese, and Japanese have been flawlessly and seamlessly incorporated into one unified Peruvian food culture. The Spaniards' brought their own mélange of cultures, in addition to the multitude of microcultures that made up the Inca people, may have set the stage for an attitude of culinary acceptance that might not have been possible elsewhere….and Voila!
The explosion of sensory taste buds that is Peruvian Cuisine: an innovative and  exciting, eclectic mix of cultures, ingredients and recipes, and techniques that continues to morph and evolve to this day.
With that being said…my husband and I have had the pleasure of living in this gastro-hub of a country for almost 10 years combined! We have put together our list of foods you have not lived life unless you have tried.
Drumroll please…..!
---
1. Ceviche
What it is: freshly caught fish, filleted and cold "cooked" in a brine of lime juice, salt, and of course…hot chilies (ají – pronounced ah-hee). The combination of the crazy fresh fish is paired with the pleasant sting of crisp onion, delectable sweet potato (camote), and giant boiled corn (choclo). For a pleasant and savory crunch, dry-roasted corn kernels are sprinkled over, for a fun crunch! Many other countries have tried to imitate Peru's invention of ceviche, but Peru has perfeted the recipe! As a note of warning to the first timer – it can be spicy. There's a Peruvian saying that says, "si no es picante, no es ceviche" (If it's not spicy it's not ceviche). If you don't like spicy, don't be warned off! Ceviche is prepared al-instante, on the spot. If you don't want it to be spicy, just ask for "sin ají" (without pepper).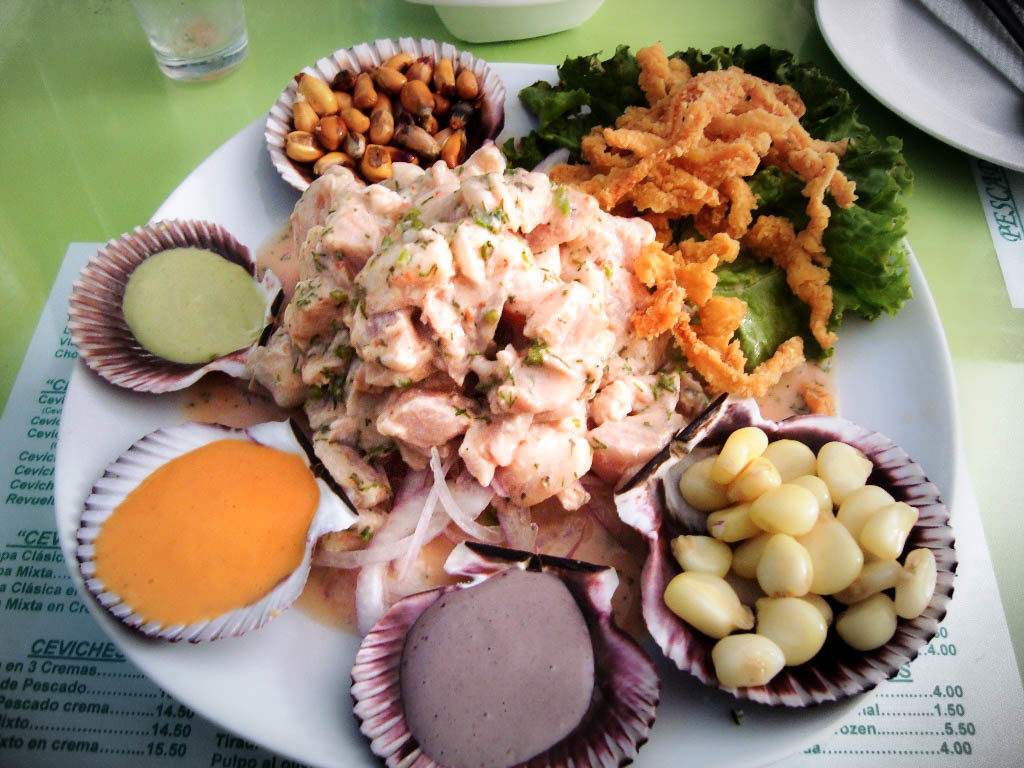 2. Ají de gallina
What it is: a savory and spicy Peruvian stewed curry made with fresh ají peppers, cream, and spices blended into a creamy sauce. Served with hard-boiled eggs, potatoes, and rice. It doesn't look that appetizing, but once you dig in, you're hooked!
3. Lomo saltado
One of the most popular Peruvian dishes! It's the go-to comfort dish of every Peruvian, (and the wannabes like me). It's a perfect fusion of the Chinese-Peruvian fusion.
What it is: beef, onion, tomato, and ají peppers stir fried over high heat with a blend of garlic, soy sauce, and spices. All served over a bed of French fries (yes, French fries), with a serving of rice on the side.  Heavennnnn.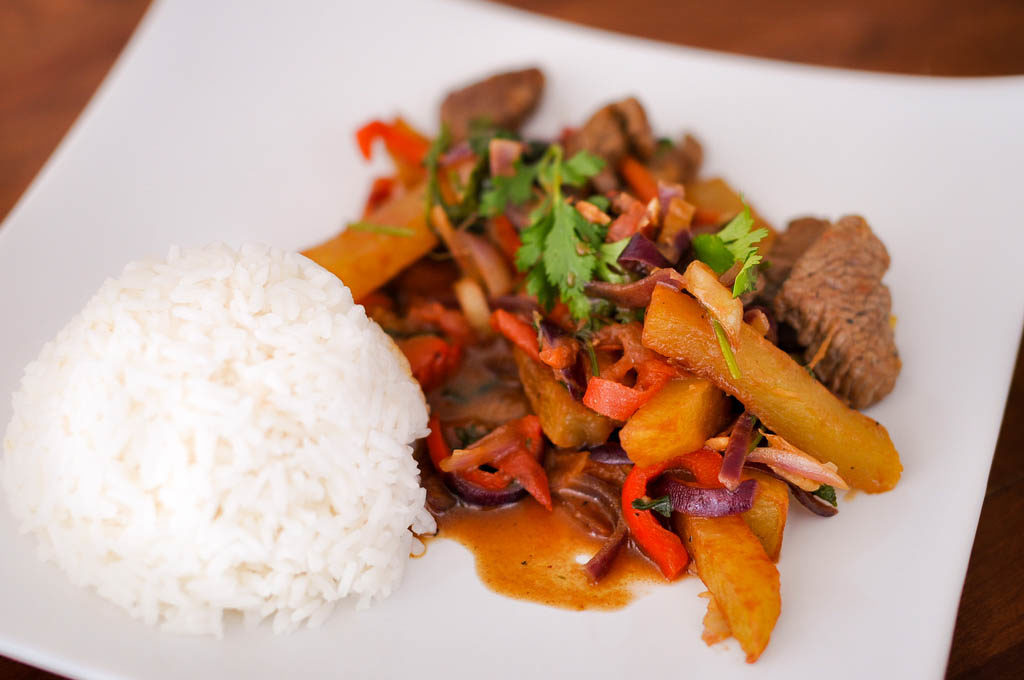 4. Anticucho
Ok so I'm going to tell you what 'anticucho' is, but don't freak out. It's the heart of the cow. But don't think about it! You have to try it first. Don't let the word "heart" put you off. Hey! It's a lean cut of meat, with very little fat. Cut into thin slices, this fresh cut of meat is marinated in a tangy marinade of vinegar, soy sauce, garlic, and cumin spices, then grilled over charcoal flames to a medium-rare state. Served with potatoes or camote (sweet potatoes), this Peruvian delicacy is found everywhere – on the street for S/1, ($0.33), or in the most gourmet restaurants of Lima. It's a must-try for any Peru visitor!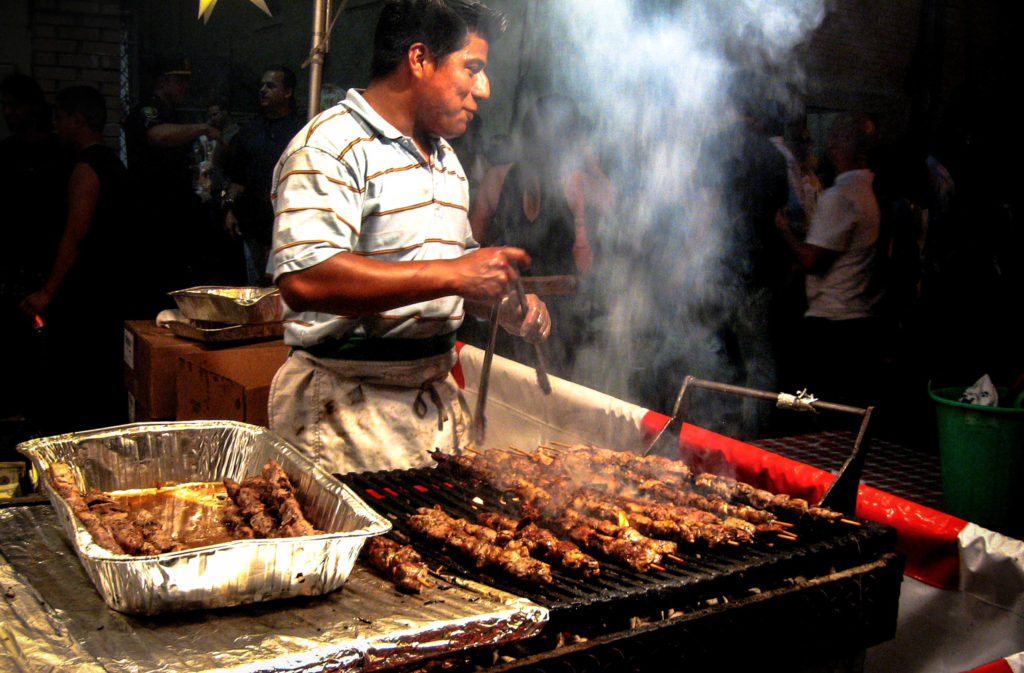 5. Chifa
It's not Chinese, it's not Peruvian. It's the perfect fusion of amazing flavors, and zingy condiments. It is not the same as Chinese-American cuisine (which is altered to suit the American palate, and isn't consumed by Chinese people…in either the U.S. or China). Chifa is a unique cuisine in and of itself. You have to try it.From 'Kam Lu Wanton' (crispy wanton, and meat, stir fried with veggie in a sweet and sour sauce), to arroz chaufa (stir fried rice) – Peruvian 'Chifa' is a one of a kind genre and flavor you MUST try if you come to Peru
6. Tallarines verdes (Peruvian Pesto Pasta)
Bring on the basil baby!! This Peru-invented delicious pasta dish features a pesto-like sauce that is made with basil, spinach and spices. What sets it apart is the secret ingredient – 'queso fresco' (fresh cheese), and evaporated milk! This makes the basil-spinach blend much more creamy and gives a sweet complexity to the flavor. Simply said: it's delicious. This delicious plate is yet another example of how immigrants have influenced and fused with the Peruvian culture. Peruvians have taken pasta, introduced by Italians, and made it their own.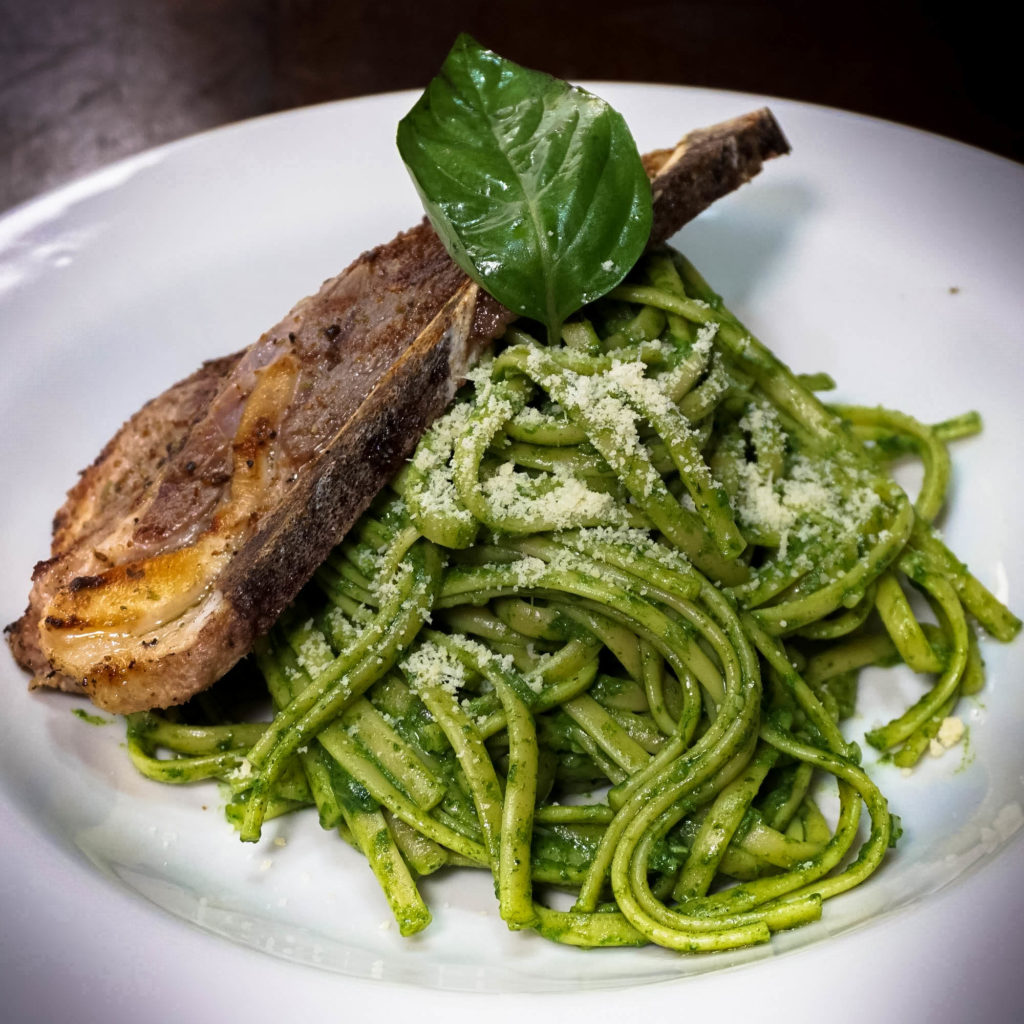 7. Papa a la huancaina
What is it: yellow potatoes drenched in a spicy and sinfully creamy aji sauce. Served with a hard boiled egg and a Peruvian black olive, this is a simple and classic Peruvian staple. It is relatively easy to make. You can make it no matter where you are in the world. Follow this recipe to wow you next dinner guests with this easy appetizer or main course.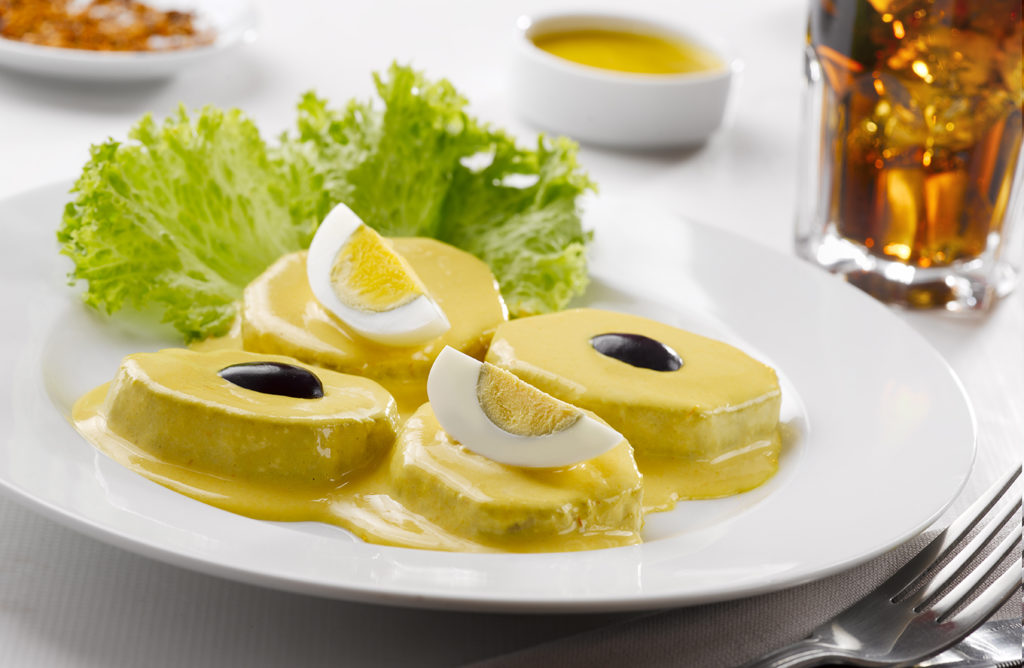 8. Arroz con pollo 
Literally translated. 'Rice with Chicken'. You've got to love the simplicity of these names! But it is so much more than just that. It is related to the Spaniards 'paella', but instead of the Spanish saffron and cumin, it is made with the Peruvian aji peppers and cilantro. This gives it a green color, and a savory, subtle taste. Another secret ingredient that gives it a unique flavor is dark beer!! In Peru, the Cusqueña Negra (the local dark brew beer), you can substitute any dark lager like Guinness stout in the recipe.  It can be made with duck, as it is in the northern parts of Peru. It is a staple in the Peruvian kitchen, because of how economic it is to make. I love it because it's a one-pot meal! Want to try it for yourself? I love this fool proof recipe.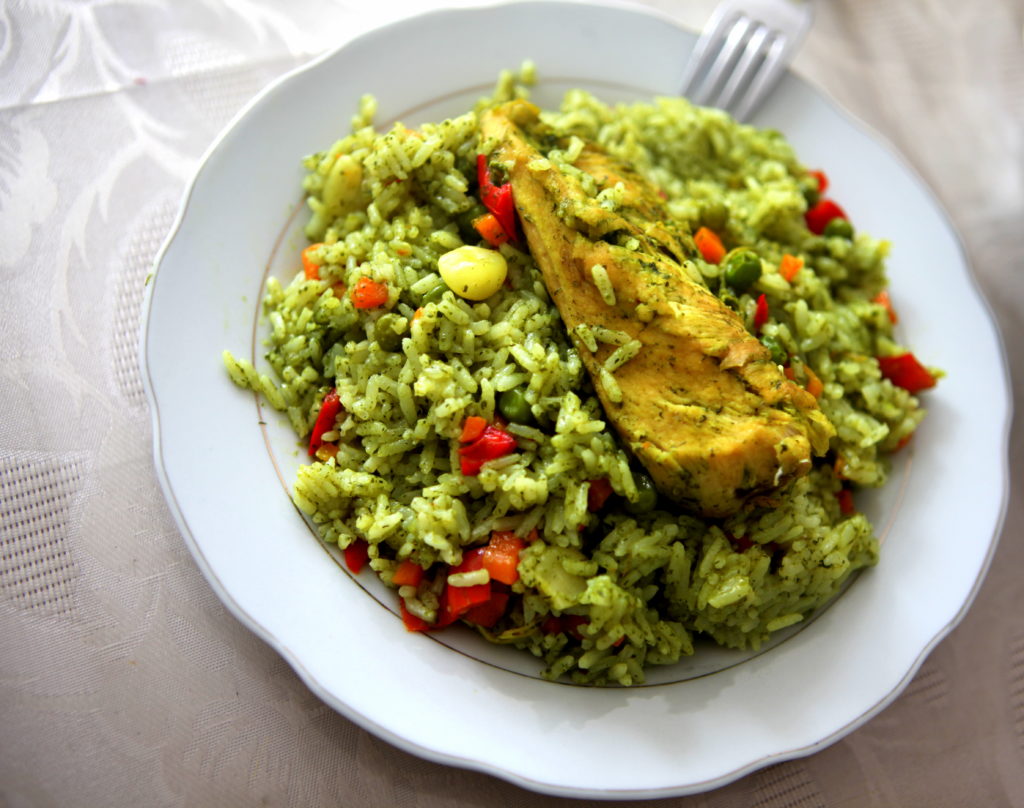 9. Rocoto Relleno

It looks like a typical red pepper, but beware – it's not. It's the Peruvian version of stuffed peppers. Because the typical sweet peppers were not available, hot rocoto peppers, a very spicy Peruvian pepper were used. The spice is tamed down by boiling in water and vinegar, and then stuffing it with meat, cheese, and an egg on top. It's worth it to try, especially because the rocoto pepper is delicious and native to Peru, and the combination of cheesy, spicy, and savory are one of a kind!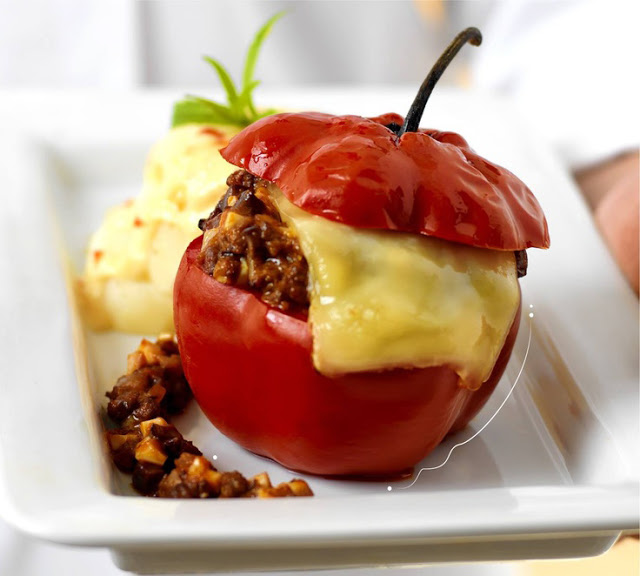 10. Pollo a la brasa (Barbecue style chicken)
Some of the best chicken in my life I have had in Peru – but no one ever talks about it. I know…rotisserie chicken doesn't seem that exciting but…oh, it is. After my first bite I realized I was dead wrong. It was like no other chicken I had tried. The skin was crispy and succulent, and the meat underneath was soft, tender, and juicy to the bone. I saw what the hype is. I have never made this at home. Peruvians LOVE their pollo (chicken), and 'pollerias' (chicken restaurants) abound in Lima and Peru. Looking into the recipe, in the marinade is: soy sauce, lime juice, garlic, cumin, paprika, oil, and…of course beer. The chicken is marinated and then roasted over a spit. It's best eaten fresh, hot off the grill. Usually served with thick cut french fries and various sauces. Definitely get all the sauces. It's a party in your mouth.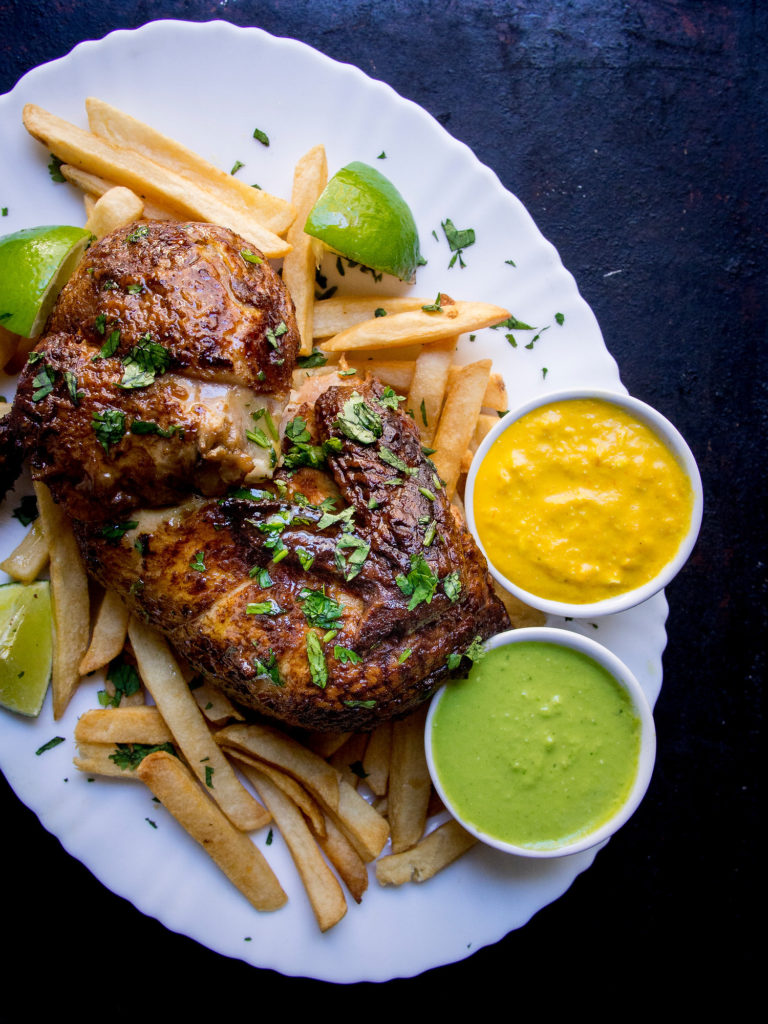 Peru is a beautiful country. It overflows with fresh food, culture, and, variety. Their abundant presentation of gastronomy is one of the reasons I love and highly recommend a visit to delicious Peru.